Steel Tube (Cylinder) Necking-in & Closing Machine
Steel Tube Necking-in & Closing Machine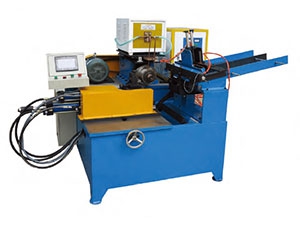 Description
The steel tube necking-in and closing machine uses hot spinning technology, primarily for necking-in and closing of steel tubes and pipes, especially in automotive shock absorber, motorcycle vibration dampers, SCBA cylinders, accumulator shells, small gas storage cylinders, boiler tubes, and chemical pipe industries.
Main Features
-OMRON PLC control and Weinview touch screen operation
- Induction heating method, clean & quick
- Both necking-in and closing: The reserved hole diameter after necking-in can be freely adjusted, and the end wall thickness after closing can be increased for better pressure resistance with no need for additional welding.
- Closing end can be flat, spherical, ellipsoidal or pyramid shaped, and is easy to adjust.
- Automatic hydraulic clamping
- Necking-in & closing dies are made using a cobalt-base alloy. They are resistant to high temperatures, and feature a long service life.
- Compulsive lubricating system, prolonging life of dies
- Auto loading & unloading device is optional
Technical Data
Item
RXYJ-40
RXYJ-70
RXYJ-80
Suitable tube diameter
14-40mm
20-70mm
30-80mm
Suitable tube wall thickness
1-2.5mm
1-5mm
1-4mm
Suitable tube length
80-600mm
80-600mm
120-500mm
Necking-in / closing speed
5~15s
Production speed
200~400pcs/h
100~300 pcs/h
Main motor power
5.5kW
6.5kW
8.5kW
Induction heating power
25kW
35kW
35kW
Machine dimension
1500x2200x1600mm
1600x2250x2050mm
3000x2800x2200mm
Machine weight
1850kg
2000kg
3500kg
Typical Products Made by Steel Tube Necking-In & Closing Machine
Stainless Steel Sensor Tube Closing Machine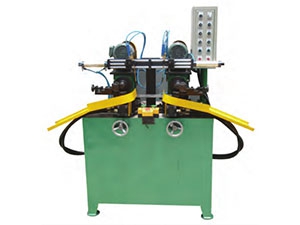 Description
The stainless steel sensor tube closing machine is specially designed to close stainless steel sensor tube ends. It can also be used for necking-in purposes. The closed mouth diameter can be freely adjusted, and the machine is capable of closing the ends of both steel and copper tubes.
Technical Data
| | | |
| --- | --- | --- |
| No. | Item | Data |
| 1 | Suitable stainless steel tube diameter | 5-10mm |
| 2 | Suitable stainless steel tube wall thickness | 0.4-1.0mm |
| 3 | Suitable stainless steel tube length | Less than 500mm |
| 4 | Spinning method | Cold spinning |
| 5 | Closed end shape | Spherical and ellipsoidal |
| 6 | Motor power | 3kW |
| 7 | Production speed | 300-500 pcs/h |
| 8 | Closing tool material | Carbide alloy |
| 9 | Machine dimension | About 1000 x 1300 x 1550mm |
| 10 | Machine weight | About 750kg |
Typical Sensor Tubes Made by This Tube Closing Machine
We have a variety of tube necking-in and closing machines available for different purposes.