For lead-acid battery, there need many different kinds of machines, such as grid casting machine, board pasting machine, etc.
I. Lead-acid Battery Grid Casting Machine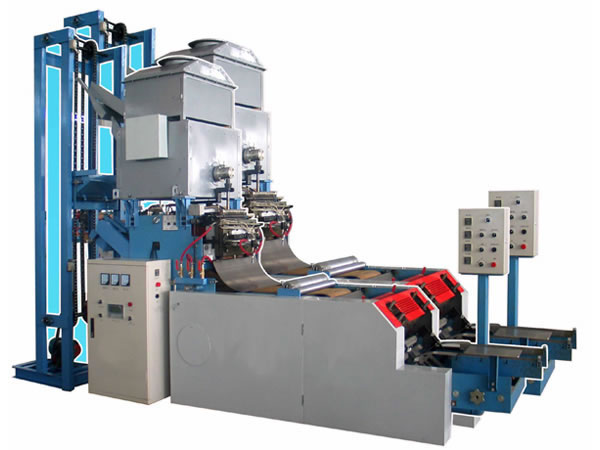 This machine is specially designed for casting board and grids used in batteries. It can melt lead, keep constant mould temperature, feed certain lead liquid, cast and trim edge, all in one machine.
Description
The lead-acid battery grid casting machine is specially developed for melting lead alloy powders. It can also be used for automatic casting and cut-to-length.
Technical Parameters of Lead-acid Battery Grid Casting Machine
Item
Specifications
Applicable board size
400mm×(100-165)mm
Suitable board thickness
1.2-4.0mm
Applicable alloy for grid
Lead-Antimony
Antimony 1.6-4.5%
Lead-Calcium
Calcium 0.08-0.14%
Production speed
6-17pcs/min (large size)
Total power
43kW
Actual power consumption
26kW
Melting pot volume
1.5 tons
Melting pot temperature range
430-550℃
Casting mould temperature range
Upper mould
150-170℃
Lower mould
179-190℃
Lead feeding pipe temperature range
450-520℃
Lead ladle temperature range
450-550℃
Machine dimension
3450×900×1800mm
Note: There are several different kinds of grid casting machines for your selection. For example, this machine can be equipped with one pot and two casting machines for high production capacity. Machine for bigger grid size of 710×(140-250)×( (3-6)mm is also available from us.
II. Lead-Acid Battery Grid Pasting Machine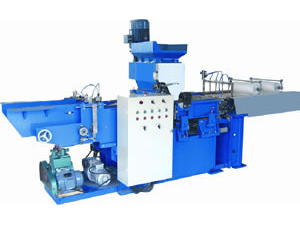 Description
As the name implies, the lead-acid battery grid pasting machine is generally employed for coating diachylon to grids. Full automatic, the working process includes pasting, pressing and acid pouring.
This range of product can be classified into single-side grid pasting machine and double-side grid pasting machine. The double-side grid pasting machine can paste diachylon to both anode and cathode side.
Main Technical Data of Lead-Acid Battery Grid Pasting Machine
Item
Specifications
Applicable grid size
Length
180-380mm
Width
110-170mm
Thickness
1.0-4.5mm
Capacity of diachylon hopper
About 150kg
Production speed
60-120pcs/min
Pasting thickness error
≤±0.1mm
Pasting weight error
≤±5g
Total motor power
About 12.3kW
Compressed air
0.7MPa, 0.3m3/min
Machine dimension
3760×1700×1650mm
Weight
About 2000kg
For the production of lead-acid battery, users also need other machines. Here is the list for the equipment required.
1. Vacuum diachylon mixing machine
2. Grid surface oven-drying device
3. Lead powder milling & oxidizing equipment
4. Lead-acid battery formation & test equipment
Battery Activator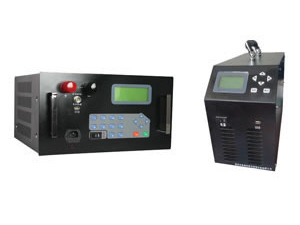 The BA3930/3932 intelligent battery activator is a portable instrument for daily maintenance of single cell which has lag-out properties in one lead acid battery. It plays three roles for comprehensive solutions: charger (DC power supply), discharger (DC load bank) and activator.
These three functions can be used individually or comprehensively. When used comprehensively, lag-out battery will experience low-volt constant current charging and discharging singly or in multi-circles (1~99). By activating the disabled Active Material on battery electrode plate, it amends the cell malfunction caused by chemical failure and thus boosts the capacity of old cell. Activation curve and certain parameters (e.g.: voltage and resistance) will display on screen as activation ends.
Technical Parameters of the Battery Activator
Parameters
Measurement Mode
Resolution
Accuracy
Charging current
1-100A (2V) 1-30A (12V) 1-30A(6V)
1A
1%
Discharge current
1-100A(2V) 1-30A(12V ) 1-30A(6V)
1A
1%
Total charging voltage
1.7-2.4V(2V) 5.4-7.2V(6V) 10.2-15V(12V)
0.1V
0.25%
Total discharging voltage
1.7-2.4V(2V) 5.4-7.2V(6V) 10.2-15V(12V)
0.1V
0.25%
Power supply
AC220V±10%


LCD display
192*64/ 128*64
Temperature
5℃~50℃
Humidity
5%~90%RH
Dimension
395*370*200 mm
Weight
10Kg
Communication
USB interface
Battery Internal Resistance Tester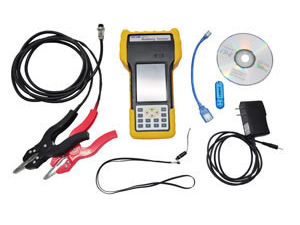 The IR3915 battery internal resistance tester is a new product generation for internal resistance with touch screen operation. It is specially designed to evaluate and maintain all stationary power systems including uninterruptible power system.
With accurately testing battery internal resistance and voltage, the battery internal resistance tester gives an indication of battery capacity and technical status, for new cells combinations or identifying lag-out cells. The battery internal resistance tester has key-board and touch screen operation methods; it can carry out both group test and single cell tests.
Technical Parameters of the Battery Internal Resistance Tester
Item
Parameter
Test range
Internal resistance
0~100mΩ
Voltage
0~220V
Resolution ratio
Internal resistance
0.1mΩ
Voltage
1mV
Test precision
Internal resistance
±1.0% reading ±6
Voltage
±0.2% reading ±6
LCD display
320*240
Power supply
Lithium ion battery, rechargeable, more than 8 hours length
Measuring data memory
3000 cells
Com port
USB
Dimension
190 x 100 x 30mm
Weight
0.5kg
We provide all equipment related with lead-acid battery manufacturing and testing.