C/Z Purlin Interchangeable Forming Machine
C/Z Purlin Interchangeable Forming Machine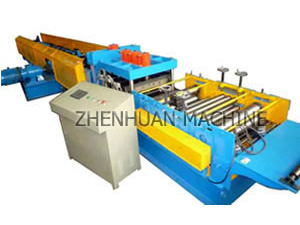 Description of C/Z Purlin Interchangeable Forming Machine
Adopting similar technology of the special structure from New Zealand, our C-Z purlin interchangeable forming machine is widely used. The rollers for C & Z are changed very quickly without dismantling any parts.
This rolling machine can produce C & Z purlins of all specifications.
Better precision of the formed purlin is achieved by using special thickness adjustment device.
A special adjusting device can let this machine produce both 45° and 90° lips for Z purlin.
Main Technical Data of C/Z Purlin Interchangeable Forming Machine
1)Main dimension: 11000 x 1800 x 1800mm
2)Total weight: 14000kg
3)Main driving motor: 15kW
4)Feeding & leveling motor power: 4kW
5)Hydraulic motor: 5.5kW
6)Hydraulic pressure: 15-20MPa
7)Steps of rollers:
a. Feeding & guiding: two sets
b. Leveling: one set, seven rollers
c. Main forming: 15 steps
d. Rectifying: one step
8)Forming speed: 10-15 m/min (excluding punching & cutting)
9)Changing speed from one profile to another or from one size to another size: 15 minutes.
10)Purlin specifications:
a. For C purlin: 100-300mm
b. For Z purlin: 100-300mm
11)Suitable material: 1.4-3.0mm, Q195~235 cold rolled steel, hot-zinc coil
12)Material of rollers: GCr15, quenched HRC 58-62
13)Material of roller shafts: 45# steel, adjusted, diameter 75mm
14)Material of blade: Cr12
15)Material of punching head: Cr12
16)Length tolerance: +/-1.5mm
17)Tolerance of space between holes: +/-1mm (non-accumulative)
18)Tolerance of X-direction and Y-direction: +/-5mm within 6m.
C Purlin Roll Forming Machine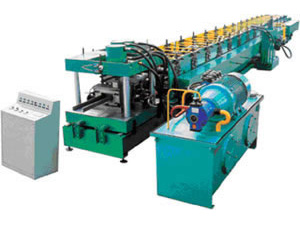 Z Purlin Roll Forming Machine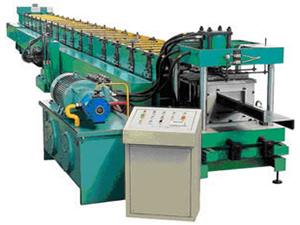 Zhenhuan is a forming machine manufacturer and supplier in China. Customers are welcomed to trade in roll forming machine, spiral duct forming machine, plasma cutting machine, welding machine with our company.