Coil Copper Tube Cutting Machine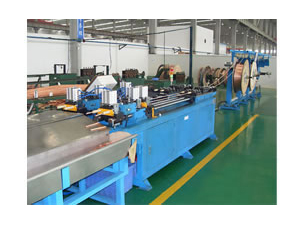 Description
The tube cutting machine is a NC cut-to-length machine for straightening coil copper tubes and cutting it into the length required, automatically. It adopts special cutting technology, resulting in chipless cutting and small deformation of the cutting section.
Main Features of Coil Copper Tube Cutting Machine:
1. Servo feeding, stable and high repositioning precision
2. One time cutting four pieces, high efficient
3. With stretch-breaking function, less mouth shrinking rate
4. PLC control, high automation-auto feed, auto cut, auto unload, auto alarm
Main Technical Data of Tube Cutting Machine
Item
Data
Remarks
Material
Coil copper tube
Diameter
Ф6.35~Ф19.05mm
Wall thickness
0.3~1.0mm
Copper coil size
Outer diameter: 1000~1250mm Inner diameter: 130mm
Copper coil weight
Max. 280kg
Cutting pieces
4
Dual-drive, one time
Cutting length
Min. 40 mm, no max. limit
When less than 100mm, no pre-stretching
One-time feeding stroke
1000 mm
Working efficiency
8 times per minute(L=1000)
Straightness tolerance
≤2‰
Repositioning precision
L≤1000 mm≤0.3mm L≥1000 mm ≤0.6mm
d0-original wall thickness d1-finished wall thickness f= (d1 - d0)/ d0 %
Mouth inner diameter shrinking rate
f < 20%
Length difference among four pieces
≤0.5mm (L=1000)
Surface condition after cut
No apparent scratch, draw marks, etc. No burrs on mouth
Roundness of cut tubes
Non-roundness ≤3%
Power
380V 50Hz 3Kw
With air switch
Air source
0.5--0.7MPa
Microchannel Flat Aluminum Tube Cutting Machine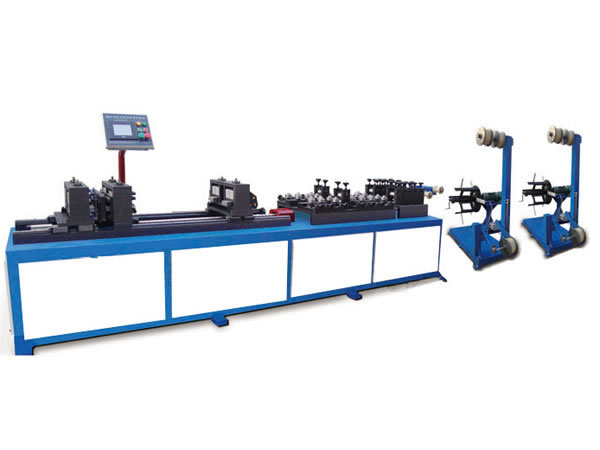 Description
Inside automobile air conditioners, the multi-flow condenser uses microchannel flat aluminum tubes. These tubes are also called mini-channel or multiport aluminum pipes. A microchannel flat aluminum tube cutting machine is designed specifically to straighten the coil aluminum tubes. It also has the functions of necking and automatic cutting to length.
Main Features
1. Employing servo feeding system, the coil aluminum tube cutting machine has stable and high-accuracy repositioning performance.
2. Two pieces of coil aluminum tube can be cut synchronously, resulting in high working efficiency.
3. The special stretch-break cutting function results in less mouth shrinking rate
4. Controlled by PLC, this product can complete decoiling, material feeding, and material cutting, automatically.
Technical Parameters of Microchannel Flat Aluminum Tube Cutting Mac
| | |
| --- | --- |
| Item | Specifications |
| Material | Coil flat aluminum tube |
| Flat aluminum tube width | 14-32mm |
| Flat aluminum tube thickness | 1.5-3mm |
| Aluminum coil size | Outer diameter: 1100mm Inner diameter: 450-500mm Height: 300-330mm Weight: max. 300kg |
| Cutting pieces | 2 |
| Cutting length | Min. 100mm, no upper limit |
| One-time feeding stroke | 200-900mm |
| Cutting speed | 15 times per minute (L=650) |
| Cut-to-length accuracy | ≤±0.2mm |
| Straightening accuracy in width | ±0.04/850mm |
| Straightening accuracy in thickness | ±0.02/850mm |
| Time for changing cutting blade | ≤5min |
| Time for changing tube width | ≤15min |
| Total electric power | About 10kW |
| Air source | 0.5-0.7MPa |
| Total weight | About 2800kg |
Product Display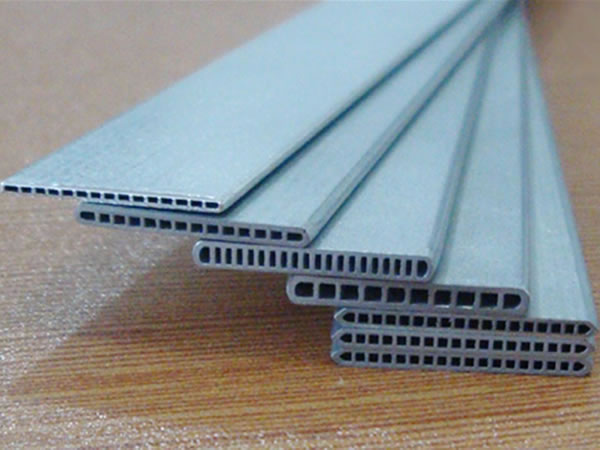 Other machines related to automotive multi-flow condenser production are available from us.
As a tube forming machine provider in China, we can offer any kind of tube cutting machines for different purposes!