Oval Tank Head Flanging Machine
Oval Tank Head Flanging Machine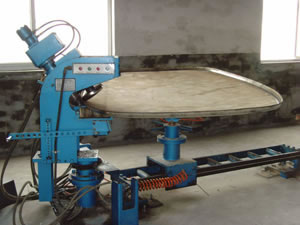 Description of Oval Tank Head Flanging Machine
Our flanging machine is equipped with a copying system which is ideally suitable for flanging oval tank heads or any other special shaped tank heads. These tank heads are commonly used in liquid tank trucks.
In general, this oval tank head flanging machine is comprised of main flanging head, sliding trolley, as well as hydraulic, vacuum, and copying system.
Technical Parameters of Oval Tank Head Flanging Machine
Item
Specifications
Applicable tank head diameter
850-3000mm
Total flanging height
50mm
Applicable material thickness
Carbon steel
2-8mm
Stainless steel
2.5-6mm
Linear flanging speed
3-8m/min
Production speed
No more than 25 minutes per workpiece with the perimeter of 6.5m.
Total power
12kW
Machine dimension
3800m×1300mm×1400mm