Axial Fan Part Spinning Machine
Axial Fan Part Spinning Machine
Description
The fan parts spinning machine is specially offered for industrial fans. This fan parts spinning device can be used for flanging drum and wind collector for axial fans, spinning air inlet and front disc of centrifugal blower through one-step forming. Apart from that, our axial fan part making machine can be employed for making bead for air duct and expanded duct, as well.
Features
1. The fan parts spinning machine is distinguished by simple operation, low noise, and low energy consumption.
2. Employing special spinning wheel, the fan drum flanging machine integrates different functions to reduce the number of tools needed for production.
3. Since the spinning is conducted from the middle of the blank material, this air inlet forming machine enables smooth spinning surface and little deformation.
4. Thanks to the compact structure, it is very easy for the users to change the spinning wheel for the fan parts spinning machine
Technical Parameters
Item
Specifications
Application
Centrifugal blower
Air inlet and front disc forming
Axial fan
Drum and wind collector flanging
Air duct
Mouth expanding, flanging and beading
Max. fan parts diameter
Fan codes 4-72, 4-73
1800mm
Fan codes 9-19, 9-26
600mm
Front disc size
Fan codes 4-72, 4-73
3.6#-18#
Fan codes 9-19, 9-26
3.6#-6#
Max. carbon steel thickness
Fan codes 4-72, 4-73
≤6mm
Fan codes 9-19, 9-26
≤3mm
Suitable drum diameter
≥350mm
Suitable flanging height
≤30mm
Suitable flanging thickness
≤3mm
Suitable drum length
600mm (3000mm optional)
Main drive motor power
4kW, inverter control
Hydraulic pump motor power
3kW
Machine dimension
2800×1800×1630mm
Hydraulic Fan Drum Flanging and Punching Machine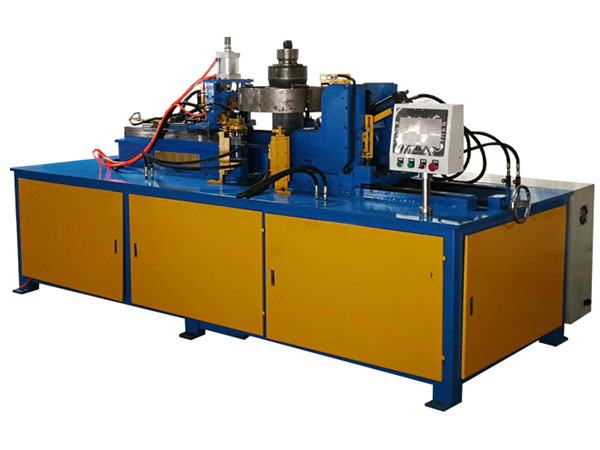 This machine is specially designed for flanging and hole punching on fan parts.
Main Technical Specifications
| | |
| --- | --- |
| Item | Specifications |
| Flange diameter | 300-1300mm (customized) |
| Flanging thickness | 1-4mm |
| Punching thickness | 1-5mm |
| Production speed | 80-200pcs/8hours |
| Driving mode | Hydraulic type |
| Control mode | PLC + Touch screen |
| Motor power | 11kW |
| Machine weight | 4600kg |