Horizontal-cut Grid Casting Machine
Horizontal-cut Grid Casting Machine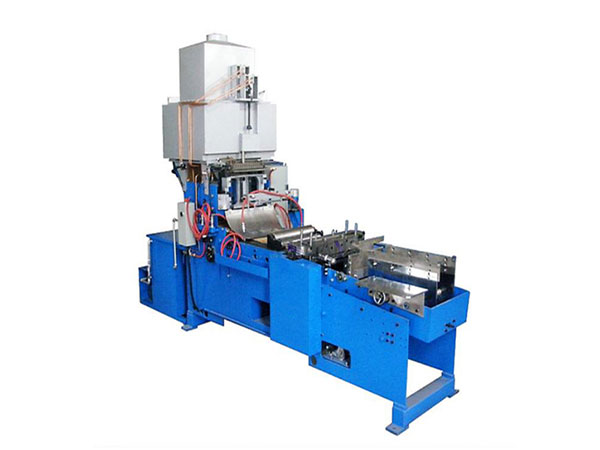 Featuring a patent design, this horizontal-cut grid casting machine developed by our company is used to produce lead acid battery grids.
Main Features

The grid casting machine is equipped with a hydraulic shape-forming device which is designed with adjustable forming pressure and thickness.
Auto grid weighing device: when net weight of one grid is not within tolerance, grid collecting device doesn't work. This ensures unqualified grid will be ejected to be collected separately.
Optional specifications display function: as per requirement, all temperature control and weight specifications can be displayed through interface, allowing for easy specifications adjustment.
Horizontal cut system for waste grids: cutter and waste collector are designed at the same horizontal level as good grid conveying. This design avoids several times' impact to good grids when cutting and collecting waste grids, thus reducing grid deformation.
Horizontal cut brings longer grid cooling time, 20~30% higher efficiency than that of traditional grid casting machine.
Good grid thickness uniformity, higher frame density, less weight error
Reasonable matching heating power and volume of lead melting pot, good energy conservation and longer life of electric parts because of no frequent starting.
The grid casting machine comes with two separate lead supplying valve systems, one for controlling the continuity of lead liquid, the other for the quantitative lead feeding.
Main Technical Specifications
| | |
| --- | --- |
| Item | Specifications |
| Applicable grid size | 400 x (120-170) x (1.2-4.0) mm |
| Grid weighing range | 0-1000 gram |
| Weight accuracy | ±0.2g |
| Thickness error | 0.05mm |
| Productivity | 7-16 big grids / min |
| Electric power | About 22kW |
| Air consumption | 0.1m³/min |
| Air pressure | 0.4-0.6MPa |
| Machine dimension | 4220 x 1070 x 2400mm |
| Machine weight | 2000kg |