Plate Lug Cutting & Brushing Machine
Plate Lug Cutting & Brushing Machine

This integrated battery machine is designed for cutting and brushing plate lugs, and separating battery plates in a fully automatic manner. Single-plate and double-plate machines are optional according to your lead-acid battery size. The plate lug cutting and brushing machine comes with an efficient waste recycling system and dust collector, providing clean working environment.
Main Configurations
- Plate loading frame
- Plate alignment device
- Side brushing device
- Top & bottom brushing device
- Vacuum suction plate
- Lug cutting device
- Lug brushing device
- Plate separating, stacking and alignment device
- Lug side brushing and middle seam brushing device
- Waste collector
- Plate collecting table
- Electric control system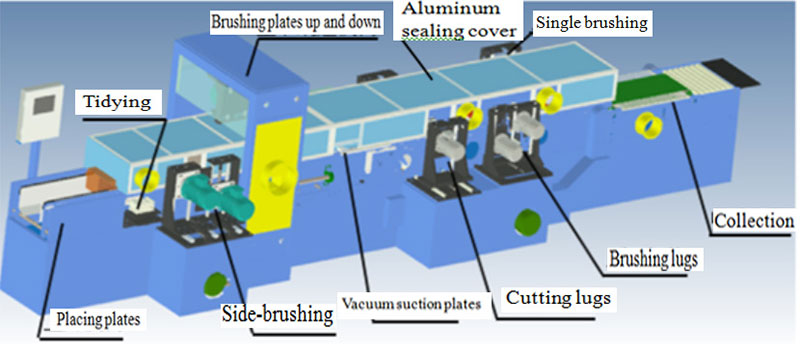 Main Technical Specifications
| | |
| --- | --- |
| Item | Specifications |
| Applicable plate length | 260mm-380mm (excluding lug) |
| Applicable plate width | 120mm-160mm |
| Production speed | 60~100 big plates per minute |
| Total electric power | 18kW |
| Air supply | 0.4Mpa-0.6MPa, 15L/min |
| Dust collection volume | ≥10000m³/h |
| Control method | PLC + HMI |
| Machine dimension | 7900 x 2190 x 1730mm |
| Machine weight | 5000kg |
Main Features
Designed with PLC control and HMI operation, parameters can be stored and recalled for future use.
All operations including cutting, brushing and separating can be automatically performed, thus requiring only two operators.
Vertical plate loading, negative pressure vacuum suction plate, adjustable plate stacking height
Slits plates and lugs using blade, ensuring high precision and no waste.
Positions of lug brush seat and saw cutter seat can be preciously displayed, realizing accurate adjustment of plates with different sizes.
Plates are overturned 90° for vertically alignment, ensuring low rejection rate.
The plate alignment device is adjusted by the screw, shortening plate size changing time.
Entire upper channel is sealed with transparent material. All parts which need to be adjusted are mounted outside of the sealing cover. Thus, there are less lead dust overflown, achieving efficient lead slag recycling, and longer machine life.
Fully sealed lower channel is equipped with a waste recycling device and lead dust recycling system, providing clean working environment.

The separating station is designed with bottom air ejecting, and the plate collecting station comes with side air ejecting. Both interior and exterior of the battery production machine are fully sealed, ensuring no lead dust during separating plates.


The plate collecting station is designed in accordance with environmental protection requirements.