Motor Stator Rotor Lamination Notching Press
Motor Stator Rotor Lamination Notching Press
CNC Notching Press Machine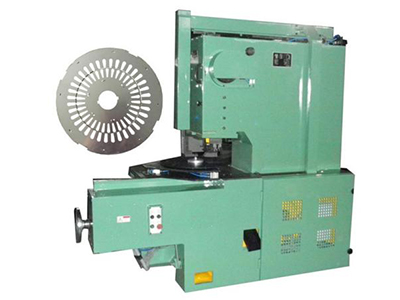 This series CNC notching press machines are initiated by us, which are designed to automatically notch electrical silicon steel into stator and rotor laminations.
Our internal positioning design allows notching stator with rotor simultaneously. And stator lamination will be cut off in the same time.
Main features
High precision, servo control indexing
Servo-controlled notching, which is smooth, low-impact, and has a longer notching die life.
Simple notching slide structure with no flying wheel, clutch, worm, etc., resulting in fewer fault spots.
A three-cylinder support device ensures precise notching of large diameter laminations.
Interval notching function, possible for unequal slots
No gear changing, direct setting parameters on HMI
The servo index includes features such as power-off memory, auto-return to origin, and first-slot adjusting.
Main technical data
Name
CCM-100
CCM-160
CCM-200
Normal force (kN)
100
160
200
Lamination diameter (mm)
Φ90-1300
Φ300-1500
Φ300-1800
Lamination thickness (mm)
1.5
2.0
2.0
Notching speed (times/min)
180-700
180-600
180-600
Slide stroke (mm)
20
16
16
Max. closing height (mm)
210
220
220
Closing height adjustment (mm)
25
35
40
Suitable number of slots
1-999
1-999
1-999
Indexing precision (mm)
±0.02
Center height (mm)
870
Air source (MPa)
0.4
Dimension (L x W x H mm)
2570x1000x2150
2770x960x2240
2970×960×2240