Hydraulic Shear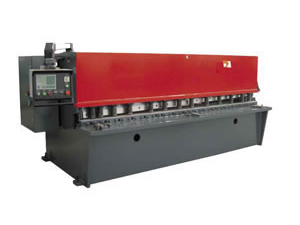 Description of Hydraulic Shear:
This hydraulic shear is installed with a motor-drive back gauge device with manual fine-adjusting, numerical displayed. A synchronous pneumatic loading car is for your choice.
Features of Hydraulic Shear:
1 The frame is welded with sufficient strength and rigidity
2 This hydraulic shear is equipped with a mechanism for quick adjusting blade clearance
3 This hydraulic shear is equipped with a shadow light device ensuring cutting operation.
4 A sensitive and reliable safety barrier is equipped on this hydraulic shear.
As a forming machine manufacturer and supplier in China, Zhenhuan can provide high quality roll forming machine, spiral duct forming machine, plasma cutting machine, welding machine and other forming machines for our global customers.
Main Technical Parameters of Hydraulic Shear
Code
Thickness
Width
Angle
Number of Stroke
Backguage Range
Motor Power
Weight
Overall Dimensions
mm
mm
°
min-1
mm
kW
kg
mm(L×W×H)
4×2000
4
2000
1°30′
22
20~500
4
2900
2660×1380×1480
4×2500
4
2500
1°30′
20
20~500
4
3500
3110×1500×1450
4×3200
4
3200
1°30′
18
20~500
5.5
5500
3840×1685×1620
4×4000
4
4000
1°30′
15
20~500
5.5
7000
4640×1850×1700
6×2500
6
2500
1°30′
18
20~500
7.5
6200
3130×1530×1600
6×3200
6
3200
1°30′
15
20~500
7.5
7200
3840×1675×1620
6×4000
6
4000
1°30′
14
20~500
7.5
8000
4630×1800×1620
6×5000
6
5000
1°30′
8
20~500
11
11000
5770×2380×2255
6×6000
6
6000
1°30′
7
20~800
11
15000
6810×2530×3250
8×2500
8
2500
1°30′
10
20~500
11
6800
3140×1665×1620
8×3200
8
3200
1°30′
9
20~500
11
8100
3587×1800×1650
8×4000
8
4000
1°30′
8
20~600
11
9000
4667×1910×1650
8×5000
8
5000
1°30′
7
20~600
18.5
14000
5612×2600×2350
10×2500
10
2500
1°30′
10
20~600
11
8800
3200×1850×1760
10×3200
10
3200
1°30′
10
20~600
11
9500
3900×1900×1760
12×2500
12
2500
2°
9
20~800
18.5
9000
3210×1920×1850
12×3200
12
3200
2°
8
20~800
18.5
10500
3910×2040×1920
12×4000
12
4000
2°
7
20~800
18.5
12600
4725×2000×2040
12×5000
12
5000
2°
8
20~800
22
15500
5750×2260×2240
16×2500
16
2500
2°30′
8
20~600
22
10600
3300×2150×1880
16×3200
16
3200
2°30′
8
20~600
22
12500
4105×2325×2220
16×4000
16
4000
2°30′
7
20~600
22
15500
4905×2385×2250
20×2500
20
2500
2°30′
6
20~600
30
13500
3400×2350×2700
20×3200
20
3200
2°30′
5
20~800
30
17000
4100×2350×2730
20×4000
20
2500
2°30′
5
20~800
30
21000
4900×2350×2760
25×2500
25
3200
3°
5
20~800
30
16500
3480×2410×2750
25×3200
25
4000
3°
5
20~800
37
20500
4180×2410×2690
32×2500
32
2500
3°30′
4
20~800
45
22000
3300×3450×3200