CNC Plasma Cutting Machine
CNC Plasma Cutting Machine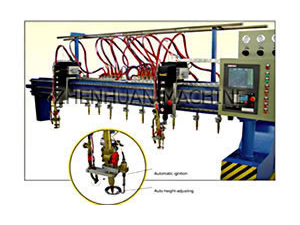 Description of CNC Plasma Cutting Machine:
This CNC plasma cutting machine can be designed and manufactured according to customer's requirements. Different plasma power for different thickness, different cutting length and width, different control systems and quantity of plasma or flame cutting torches are available.
Control System of CNC Plasma Cutting Machine:
- EDGE II from Hypertherm USA
- MICRO EDGE from Hyperthem USA
- FAGOR8035 from Spanish
- JT-300 from China
Welcome to choose Zhenhuan roll forming machine, spiral duct forming machine, plasma cutting machine, welding machine etc.!