Radial Wire Fan Guard Machines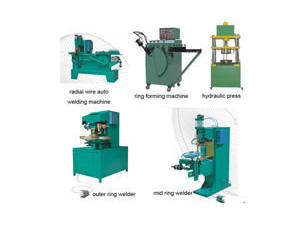 Our fan guard making machine is mainly used for producing radial type electric fan guards (covers), both front and back. The electric fan guard production line is composed of radial wire auto welding machine, mid ring welding machine, outer ring welding machine, ring forming machine, butt welding machine, hydraulic press, wire bending machine for handles, handle welding machine, edge trimming machine, and so on.
Main Technical Data of Radial Wire Fan Guard Making Machines
| | |
| --- | --- |
| Item | Specifications |
| Fan guard size | 8"-23" (or customized) |
| Radial wire number | No limit |
| Suitable radial wire diameter | 1.0-1.8mm |
| Outer ring wire diameter | 3-4mm |
| Middle ring wire diameter | 1.5-3mm |
Note: Here is the configuration for the machine with the productivity of 1000 fan guards per shift (8-hour):
1) Two inner ring welding machines
2) One outer ring welding machine
3) One middle ring welding machine
4) One ring bending machine
5) One ring butt welding machine
6) One hydraulic press
Spiral Wire Fan Guard Machine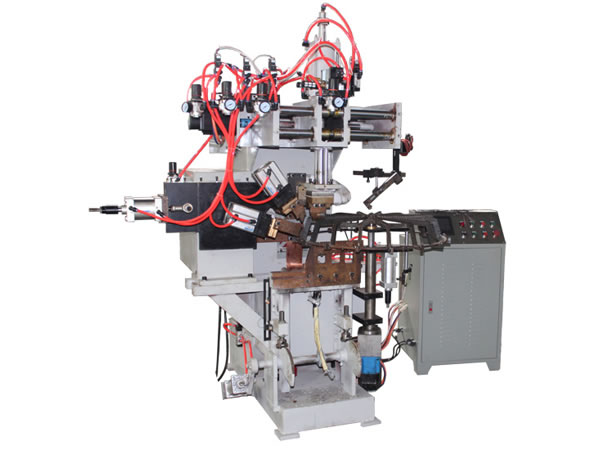 Our fan guard making machine is also capable of machining spiral wire fan guards. This production line consists of spot welding machine, outer ring welder, as well as spiral wire looping and welding machine. Amongst these devices, the last one is independently developed by our own in-house team and is a fully automated mechanism which comes with a PLC system. Moreover, the fan guard making machine delivers higher productivity than ever before.
Technical Parameters of Spiral Wire Fan Guard Machines
| | |
| --- | --- |
| Item | Specifications |
| Suitable spiral wire fan guard shape | Flat and bowl shapes |
| Suitable spiral wire fan guard size | 12"-36" (or customized) |
| Suitable spiral wire diameter | 2-5mm |
| Welding transformer capacity | 125kW |
| Production speed | 40-50pcs per hour (at 30") |