Capacitance and Dissipation Factor Meter
Capacitance and Dissipation Factor Meter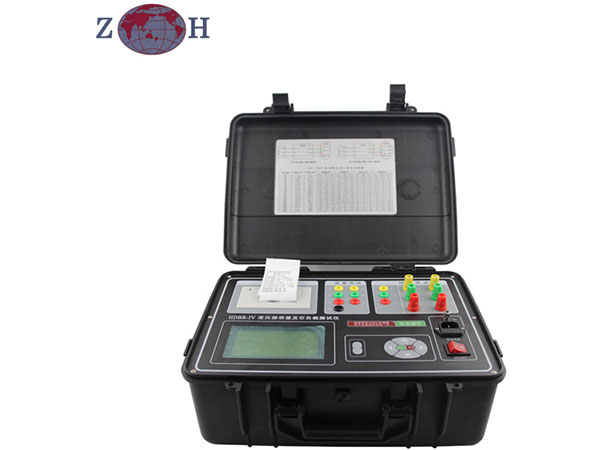 This capacitance and dissipation factor meter is an up-to-date test instrument for measuring capacitance and dissipation factor (dielectric loss and impedance) for full automatically voltage devices such as transformers, cables, capacitors, insulators, HV switches, arresters, etc.
This is a high precision instrument; main power is generated by inverter inside and boosted by transformer. Frequency of main power is 45Hz and 55Hz, different to power frequency and so avoid interference by power frequency. It is also suitable when power supplier is a generator.
Features of Capacitance and Dissipation Factor Meter
1. Portable type, very light weight, no more than 30kg.
2. Equipped with big screen (240x128mm), menu displaying with relative prompts in the right side, very simple operation, no need special training.
3. Test results from the capacitance and dissipation factor meter can be saved or printed out; one time operation and automatically finish the entire test.
4. Equipped with big capacity memory and calendar CMOS chip. Test results can be saved in time/date sequence; history records can be reviewed and printed out at any time.
5. Equipped with wiring diagram menu inside helping operator to wire correctly.
6. The capacitance and dissipation factor meter is equipped with ground detecting to ensure reliable stepping up.
7. By equipped with insulation oil cup, this instrument can also test dielectric loss of insulation oil.
8. The capacitance and dissipation factor meter is suitable for testing full-sealed capacitor type voltage transformer.
9. It has inverter and sample circuit, all digital control, output voltage is constantly adjustable
10. Equipped with multi-safety protection measures for voltage fluctuation, output short-circuit, over-voltage, over-current, over-temperature, etc.
Parameters of Capacitance and Dissipation Factor Meter
1
Service conditions
-5℃ ~ 40℃
RH<80%
2
Principle of anti-jamming
Varying frequency
3
Power supply
AC220V +/-10% (no limit on frequency)
4
HV output
voltage
0.5~10kV
precision
5%
Max. current
140mA
Capacity
1000VA
5
Self-exciting power
AC 0~30V
45Hz/55Hz
Max. current
15A
6
Resolution ratio
tgδ 0.001%
Cx: 0.1pF
7
Precision
Δtgδ
+/- (reading x 1.0% + 0.040%)
ΔCx
+/- (reading x 1.0% +1.0pF)
8
Measuring range
tgδ
No limit
Cx
15pF < Cx < 100000pF


10kV
Cx < 30,000pF


5kV
Cx < 60,000pF


1kV
Cx < 100,000pF
For CVT
Cx < 100,000pF
9
Memory size
Can store 40 units test data
10
Dimension
470 x 320 x 390mm (L x W x H)
11
Weight
30Kg