Cable Hipot Test System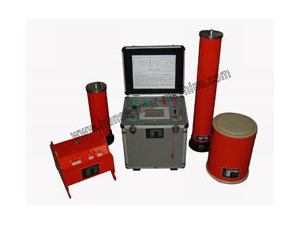 The cable hipot test system includes frequency power, exciting transformer, reactors and voltage divider. Reactors are dry resin casting type, suitable for different cable tests. Variable-frequency resonance voltage raising device makes reactor and capacitor achieve resonance by adjusting frequency of power and getting high voltage and big current on tested objects.
The cable hipot test system is portable, special to test cables. Some pieces weight can be 60Kg easily to carry by two people and others 30Kg can be carried by one person.
Main Parameters of Cable Hipot Test System
| | |
| --- | --- |
| Item | Specifications |
| Rated output voltage | 0-130kV |
| Output frequency | 20-300Hz |
| Resonant voltage wave | Sine wave, with aberration rate less than 1% |
| Full-load working duration | 60 minutes |
| System quality factor | More than 20 under max. load |
| Frequency adjustment | 0.1Hz, instability less than 0.01% |
| Power source | 220V or 380V normal electric supply |
Configuration and Test Items of Cable Hipot Test System
Code
Basic configurations
Suitable cables
Frequency power
Reactor
Exciting transformer
Voltage divider
ZXZ-44/22
2.5kW
1A/220kV, 2 sets
2.5kVA/1kV
25kV
10kV 300mm2 ≤1km
ZXZ-88/22
4kW
2A/22kV, 2 sets
4kVA/1kV
25kV
10kV 300mm2 ≤2km
ZXZ-132/22
6kW
2A/22kV, 3sets
6kVA/1/3kV
70kV
10kV 300mm2 ≤3km 35kV,300mm2 ≤0.7km
ZXZ-198/22
10kW
1.5A/22kV, 6sets
10kVA/1/3kV
70kV
10kV 300mm2 ≤4km 35kV,300mm2 ≤1km
ZXZ-264/22
15kW
2A/22kV, 6sets
15kVA/1/3kV
70kV
10kV 300mm2 ≤4km 35kV,300mm2 ≤1km
ZXZ-396/22
15kW
3A/22kV, 6sets
15kVA/1/3kV
130kV
10kV 300mm2 ≤8km 35kV,300mm2 ≤2km
ZXZ-640/22
25kW
2.5A/32kV, 8sets
25kVA/1/3/5kV
130kV
10kV 300mm2 ≤10km 35kV,300mm2 ≤3km 110kV,400mm2 ≤1km
ZXZ-1280/22
50kW
5A/32kV, 8sets
50kVA/1/3/5kV
130kV
10kV 300mm2 ≤20km 35kV,300mm2 ≤8km 110kV,400mm2 ≤2km