Shot Blasting Machine
Cylinder Inner Wall Shot Blasting Machine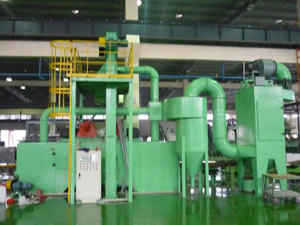 This slot blasting machine is applied with dedusting system with the view to clean the steel cylinder inner wall.
Cylinder Inner Wall Shot Blasting Machine Configuration
1. Shot blasting room
2. Cylinder inverting device
3. Blast gun moving system
4. Cylinder rotating device
5. Automatic loading and unloading device
6. Impeller head
7. Dedusting system
8. PLC control system
Technical Parameters of Cylinder Inner Wall Shot Blasting Machine
Item
Data
Cylinder diameter range
219-406mm
Maximum cylinder height
2000mm
Maximum cylinder weight
220kg
Working speed
20~24 pieces per hour
Sand diameter
Φ0.8mm
Impeller
Quantity of nozzle
2
Sand storage
0.26m3/0.5t
Blasting flow
800-1200kg/h
Air pressure consumption
0.5-0.7MPa
Hook-type Shot Blasting Machine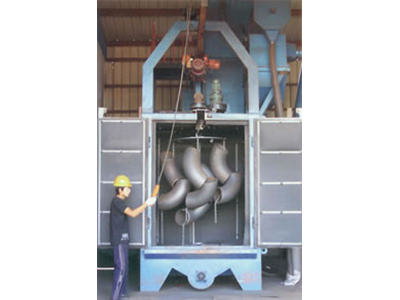 The hook-type shot blasting machine is especially designed for cleaning or strengthening those workpieces featuring long, thin-wall, and complex structure. This device takes advantage of hooks for feeding workpiece into cleaning chamber. These hooks will rotate during the process of blast cleaning.
Hook-type Shot Blasting Machine Configuration
1. Electrical hoist conveying system
2. Steel grit cleaning system
3. Dedusting system
4. Steel grit recycling system
5. Impeller head
6. Electric control system
Technical Parameters of Hook-type Shot Blasting Machine
Item
Data
Maximum workpiece size
Φ1000×2000 mm
Maximum workpiece weight
4000kg
Steel grit size
Φ0.8-1.5mm
Initial steel grit loading quantity
1000kg
Cleaning efficiency
7-8 minutes per hook
Rust-removing quality grade
Sa2.5
Impeller
Quty of antinozzle
3
Vane diameter
Φ250mm
Blasting flow
150kg/min
Material of vane
high chrome cast iron
Dedusting system
Total air quantity
15000m3/h
Filtering air speed
0.8~1.2m/min
Quantity of filters
24pcs
Compressed air consumption
1m3/min