Hydraulic Ram Pump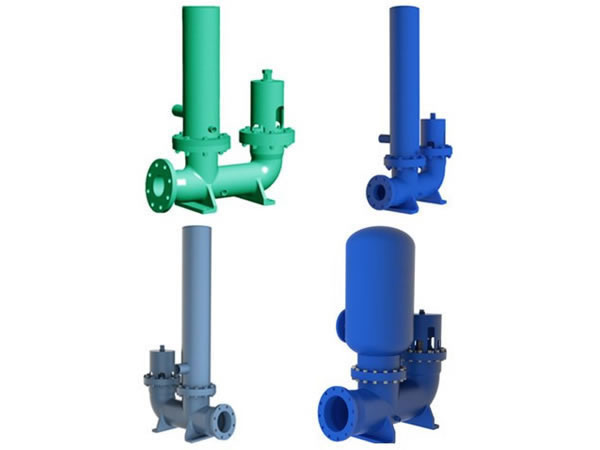 With over one hundred years' history of development, the hydraulic ram pump utilizes power from running water to deliver the water to higher places. Requiring little traditional energy, such as electricity, petroleum, and some others, the eco-friendly hydraulic ram pump is widely seen in the areas lack of energy sources, for example, mountainous area, semi-mountainous, hilly area, etc. The hydraulic ram pump can also be employed for electricity generation.
Features
1. The improved water powered pump has stable performance, suitable for the application in poor environment.
2. It helps realize unmanned operation throughout the year.
3. Environment friendly, the hydraulic ram pump makes great contribution to environment protection and energy conservation.
Advantages
1. The high efficiency hydraulic ram pump uses water as the power, consuming little traditional energy and generates little pollution to the environment.
2. In addition to high efficiency and high hydraulic head, this range of product has the lifespan up to 30 years.
3. Automatic and continuous operation results in high working efficiency and low production cost.
4. Simple operation, low maintenance cost.
5. Instead of spring, our hydraulic ram pump adopts permanent magnet to achieve little mechanical friction loss and long lifespan.
6. Specially designed switching mode of valve plate enables wide working range with the fall from 0.23-7.5m, whilst traditional pumps requires water fall of 0.6m at least.
7. Powerful water delivery capacity, which is 80% higher than that of the foreign brand.
Applications of Hydraulic Ram Pump
1. Irrigation for mountainous, semi-mountainous, and hilly area
2. Irrigation for areas near reservoir, river and stream
3. Drinking water supply for people and livestock at mountainous area
4. Water supply for landscapes and fountains in mountain villa and holiday villiage
5. Small-scalge power generation
6. Barren hills greening
Working Principle of Hydraulic Ram Pump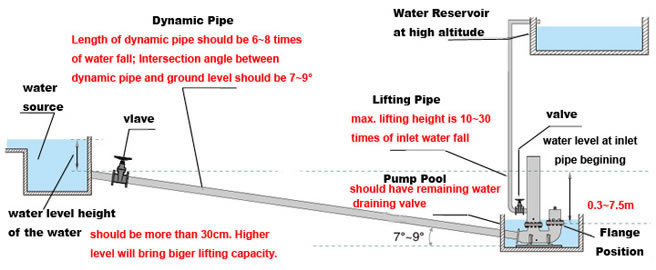 Technical Parameters of Hydraulic Ram Pump
Item
Z315L
Z315T
Material of pump body
Aluminum alloy
Nodular cast iron
Material of dashpot
Aluminum alloy
Seamless steel tube
Power pipe size
3" (89×5mm)
Lifting pipe size
1.5" (45×3.5mm)
Dimension
608×220×757mm
Weight
30kg
65kg
Inflow fall
0.3-7.5m
Inflow volume
4-30m3/h
Lifting height
Inflow fall×(2-30)m
Optimal power pipe length
Inflow fall×8m
Recommended angle between power pipe and ground
About 7°
Lifting Height and Capacity of Hydraulic Ram Pump Z315 Series
| | | | | | | | | | |
| --- | --- | --- | --- | --- | --- | --- | --- | --- | --- |
| Water fall of source (m) | 0.3 | 0.5 | 1.5 | 2.5 | 3.5 | 4.5 | 5.5 | 6.5 | 7.5 |
| Flow (m3/h) | 4 | 5 | 11 | 15 | 20 | 26 | 30 | 30 | 30 |
| Lifting capacity at 3m lift (m3/h) | 0.32 | 0.67 | 4.40 | - | - | - | - | - | - |
| Lifting capacity at 5m lift (m3/h) | 0.19 | 0.40 | 2.64 | 6.00 | - | - | - | - | - |
| Lifting capacity at 10m lift (m3/h) | 0.10 | 0.20 | 1.32 | 3.00 | 5.60 | 9.36 | 13.20 | - | - |
| Lifting capacity at 15m lift (m3/h) | - | - | 0.88 | 2.00 | 3.73 | 6.24 | 8.80 | 10.40 | 12.00 |
| Lifting capacity at 20m lift (m3/h) | - | - | 0.66 | 1.50 | 2.80 | 4.68 | 6.60 | 7.80 | 9.00 |
| Lifting capacity at 25m lift (m3/h) | - | - | 0.53 | 1.20 | 2.24 | 3.74 | 5.28 | 6.24 | 7.20 |
| Lifting capacity at 30m lift (m3/h) | - | - | 0.44 | 1.00 | 1.87 | 3.12 | 4.40 | 5.20 | 6.00 |
| Lifting capacity at 35m lift (m3/h) | - | - | 0.38 | 0.86 | 1.60 | 2.67 | 3.77 | 4.46 | 5.14 |
| Lifting capacity at 40m lift (m3/h) | - | - | 0.33 | 0.75 | 1.40 | 2.34 | 3.30 | 3.90 | 4.50 |
| Lifting capacity at 45m lift (m3/h) | - | - | 0.29 | 0.67 | 1.24 | 2.08 | 2.93 | 3.47 | 4.00 |
| Lifting capacity at 50m lift (m3/h) | - | - | - | 0.60 | 1.12 | 1.87 | 2.64 | 3.12 | 3.60 |
| Lifting capacity at 55m lift (m3/h) | - | - | - | 0.55 | 1.02 | 1.70 | 2.40 | 2.84 | 3.27 |
| Lifting capacity at 60m lift (m3/h) | - | - | - | 0.50 | 0.93 | 1.56 | 2.20 | 2.60 | 3.00 |
| Lifting capacity at 65m lift (m3/h) | - | - | - | 0.46 | 0.86 | 1.44 | 2.03 | 2.40 | 2.77 |
| Lifting capacity at 70m lift (m3/h) | - | - | - | 0.43 | 0.80 | 1.34 | 1.89 | 2.23 | 2.57 |
| Lifting capacity at 75m lift (m3/h) | - | - | - | 0.40 | 0.75 | 1.25 | 1.76 | 2.08 | 2.40 |
| Lifting capacity at 80m lift (m3/h) | - | - | - | - | 0.70 | 1.17 | 1.65 | 1.95 | 2.25 |
| Lifting capacity at 85m lift (m3/h) | - | - | - | - | 0.66 | 1.10 | 1.55 | 1.84 | 2.12 |
| Lifting capacity at 90m lift (m3/h) | - | - | - | - | 0.62 | 1.04 | 1.47 | 1.73 | 2.00 |
| Lifting capacity at 95m lift (m3/h) | - | - | - | - | 0.59 | 0.99 | 1.39 | 1.64 | 1.89 |