Polyurea Spraying Machine
Polyurea Spraying Machine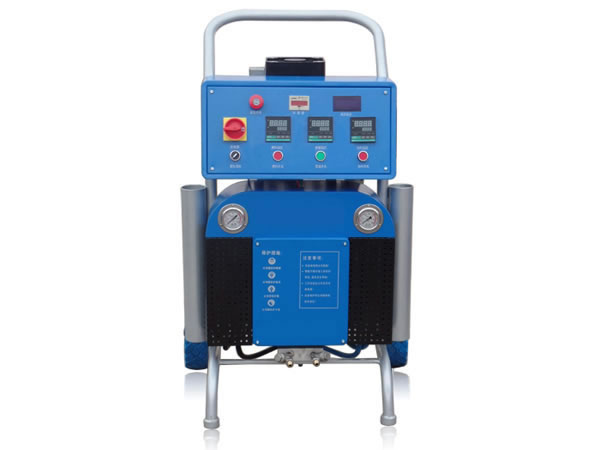 Applications
The polyurea spraying machine is generally employed for spraying polyurethane elastomer, polyurethane foam, and some other materials. It is widely seen in the construction of embankment waterproof project, pipeline anticorrosion treatment, sub-cofferdam, tank and pipe coating, cement layer protection, sewage water treatment project, roof and cellar waterproof project, and so on. In addition, the polyurea spraying equipment can also be used for building maintenance, antiwear layer painting, and insulating layer spraying for refrigeration house.
Features
1. The polyurea spraying machine adopts 160 oil cylinder for the construction of high-rise buildings.
2. This polyurea coating solution is characterized by small volume, light weight, low failure rate, easy operation, and outstanding mobility.
3. By virtue of the advanced air exchange mode, our polyurea spraying machine achieves stable operation.
4. The four raw material filters minimize the blocking caused by impurity.
5. Multiple leakage-proof devices effectively prevent the workers from being injured.
6. Apart from the emergency switch, the digital metering system is available with this polyurea spraying machine, as well
7. 380V heating system is capable of heating up the raw material to the expected temperature.
8. Thanks to the small volume of the sprayer, the polyurea coating equipment has light weight and low failure rate.
9. The pump for material lifting supports proportion adjustment between two materials in a large range.
Technical Parameters
Item
Specifications
Model
GZ-5200
GZ-5600
Quantity of flow
2-12kg/min
2-12kg/min
Working pressure
22MPa
24MPa
Heating power
18kW
20kW
Pipe length
15 meters heating pipe (can be extended to 120m)
Air compressor
0.5-0.8MPa (prepared by customer)
Machine dimension
850×1000×1300mm
Machine weight
195kg
Proportion of material A and B
1:1
Drive mode
Pneumatic
Electric power
380V, 3-phase, 50Hz