APG Epoxy Resin Casting Machine
APG Epoxy Resin Casting Machine
Our WHAG-888 APG Epoxy Resin Casting Machine adopts the automatic pressure gelation processing technology. It is used to cast high voltage electrical components with epoxy resin. The APG technology can reduce the casting duration from dozen hours (by conventional vacuum casting method) to dozen minutes. Also, the technology can control exothermic effect well and is good for compensating shrinkage caused by curing reaction, thereby ensuring that the cast products offers good dimensional stability and high mechanical strength.
The APG casting equipment is especially ideal for casting instrument transformers, pole rod of vacuum breaker, cover of SF6 breaker, as well as other electrical products featuring thin-wall, complicated, or multiple sides core pulling, etc.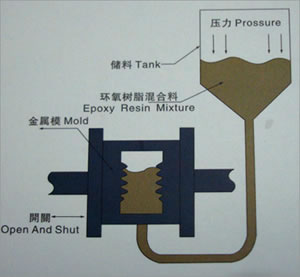 The APG technological process includes three stages which are pre-mixing, automatic pressure gelating, as well as curing. Our APG Epoxy Resin Casting Machine needs to be applied with various components including moulds, pre-mixing device, movable injection pressure vessel, hydraulic pressure gelating machine, air compressor, curing oven, and so on.
Our APG Epoxy Resin Casting Machine comes with a double station, and mould plates are fixed in the middle of the frame. While one station working, the other station will stop to take out the finished products. Therefore, the production efficiency is significantly improved.
Technical Data
Items
Data
APG Epoxy Resin Casting Machine
Die assembly plate dimension (heating plates)
800 x 800mm
Die clamping force
200kN
Die clamping speed
3.2m/min
Die opening speed
5m/min
Die clamping distance (distance between heating plates)
200-1200mm
Min. distance between upper core pulling and die plate center
150mm
Min. distance between lower core pulling and die plate center
150mm
Upper and lower die assembly plate dimension
520x240mm
Hydraulic station motor power
7.5kW
Hydraulic pressure
30MPa
Total heating power
30kW
Body tilting degree
0-7°
Outline dimension (L x W x H)
6630x1350x3195mm
Weight
about 4000kg
Pre-mixing device & movable vessel
Outline dimension
1830 x 850 x 2500mm
Mixing motor power
3kW
Mixing head elevating (hydraulic driven) motor power
0.75kW
Vacuum pump speed
8L/S
Vacuum degree
0.5mbar
Vacuum pump motor power
1.5kW
Capacity of mobile pressure vessel
100L
Heating method of pressure vessel
Oil heating
Heating power
1.5kW
Sample Photo