Paper Taping Machine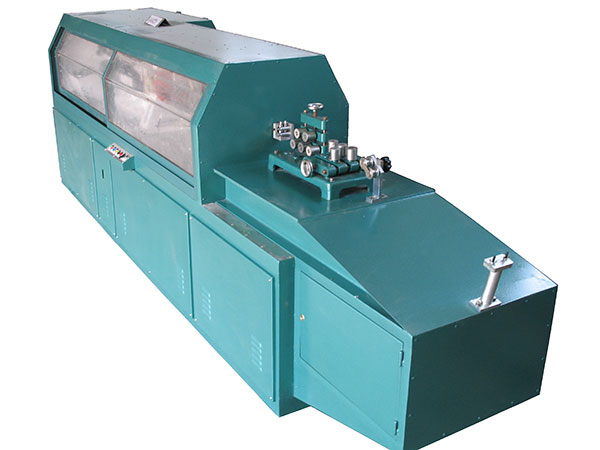 The configuration of the paper taping machine is on the basis of taping layers, quantity of wires required, and wire reel sizes. This device is able to perform single-wire taping or multi-wire taping. The taping layer ranges from 2 to 60 layers.
Machine Compositions
1. Pay-off stands
2. Main machine
3. Take-up stands
4. Control system
Technical Parameters
1. Wire Specification
Material: copper or aluminum flat wire
Width: 5~20mm
Thickness: 1~16mm
Section area: 10~200mm2
Width/thickness ratio: 0.4~12
2. Paper Specification
Thickness: 0.040~0.125mm
Width: 10~30mm
3. Taping Head Specification
Taping pitch: 8~30mm (stepless adjustable)
Taping pitch tolerance: ±0.4mm
Taping tension: mechanically automatic adjusting, constant tension
Rated rotating speed: 800rpm
Working speed: 600rpm
Paper disc diameter: outer diameter: 330mm, inner diameter: 75mm
Quantity of paper disc on each taping head: 3 or 4 pcs
Paper break sensor: This sensor is used to detect whether paper tape is interrupted or not. If the phototube detects the breaks, our paper taping machine will automatic stop.
4. Caterpillar towing device:
The thicker synchronized gear type belt allows this machine to ensure a stable and reliable liner speed.
5. A fully enclosing cover contributes to prevention of the dust.
6. Take-up device: moment motor drive, constant-tension taking-up, slick rod wiring, take-up disc motorized elevating.
Fiberglass & Film Taping Machine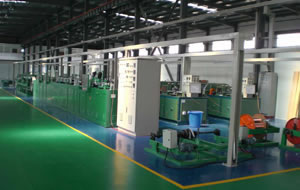 This kind of taping machine is specially designed for applying fiberglass and film to copper or aluminum wires with section areas of 5-40 mm2. The equipment adopts a dual-headed structure and each of the heads has its own control system. In addition, if our tapping machine is applied with high-frequency sintering device, it is able to manufacture special film-taped magnet wires.
Machine Compositions
1. Pay-off stand
2. Wire straightening device
3. Wire polishing & cleaning device
4. Film taping head
5. Fiberglass taping head
6. Varnishing device
7. Towing device
8. Baking oven
9. Take-up stand
Technical Data
Item
Data
Suitable wire section area
5~40mm2
Fiberglass yarn
inner diameter 42mm
yarn length 75mm
spool length 95mm
Production speed
2.5~4m/min
Film taping pitch
6~24mm
Fiberglass taping pitch
2~10mm
Baking oven
2000mm x 8 pieces
Towing wheel diameter
800mm
Main driving motor power
3kW x 2
Total electricity consumption
about 60kW
Floor areas
about 25m x 3.5m