Amorphous Transformer Machine
Amorphous Transformer Machine
This amorphous transformer is newly developed with amorphous core which has no-load loss 20% less than conventional CRGO cores!
We can provide complete machines for producing amorphous transformers, and technology support as well.
I Amorphous Cutting Machine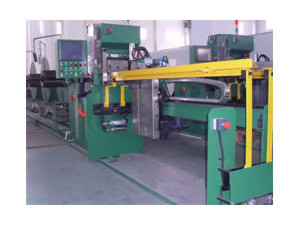 This amorphous cutting machine is specially designed for automatic cutting and stacking amorphous strips for cores.
This line adopts PLC control, servo drive, touch screen operation and high precision mechanical transmitting mechanisms, thereby ensuring high automation, high productivity and high reliability.
It is particularly suitable for processing 3-phase-3-column big amorphous alloy cores.
Main Technical Data of Amorphous Cutting Machine
Model
FJJ-2000
FJJ-5000
Amorphous core height
150-850mm
150-2000mm
Amorphous core width
30-450mm
50-1500mm
Amorphous core thickness
25-130mm
25-150mm
Amorphous strip width
140-230mm
Cutting length
300-3000mm
300-5000mm
Cutting thickness
Max. 15 layers. Each layer is 0.025mm in thickness.
Cut-to-length precision
±0.5mm
Cutting angle precision
±0.05 degree
Stacking precision
±0.5mm
Feeding speed
5-80m/min
Cutting speed
0-30 times per minute
0-20 times per minute
Electric power supply
10kW
Air consumption
0.3m3/min
Machine floor area
12×2×2.2m
15×2×2.2m
II Vacuum Annealing Furnace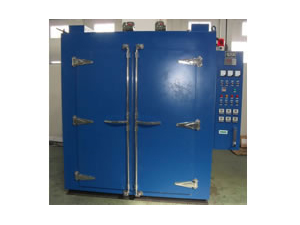 This annealing furnace is specially designed for annealing amorphous cores.
Separate temperature control system (PID), 30-section programmable temperature controller, with over-temperature shut-off and over-temperature alarming functions.
Each phase of heating tube has 200A fuse and three current meters, separate control switch Equipped with 6 temperature sensors with numerical displaying, one for body itself, five for detecting product
Furnace is filled with nitrogen gas. Start/stop filling is controlled by electromagnetic valve which is PLC programable.
Technical Parameters of Annealing Furnace
| | |
| --- | --- |
| Item | Specifications |
| Overall dimension | 2250×1900×2360mm |
| Annealing room size | 1500×1500×1700mm |
| Max. temperature | 450℃ |
| Rated power | 78kW, 3-phase |
| Heating duration | Less than 3 hours |
| Temperature evenness | ±10℃ |