Vacuum Drying Furnace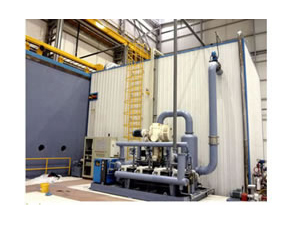 This vacuum drying furnace adopts variable-pressure drying principle suggested by Dr. Moll from Germany, which is specialized for drying transformer bodies. Compared with conventional vacuum heating drying methods, the variable pressure type can save up to 30-45% drying duration.
Main Features
1. Compact structure, small size
2. Heating system is controlled by power control module, ensuring even and stable temperature. Real power consumption during temperature-keeping is only about 35% of total power. There is no fluctuation of heating load and thus greatly reduces actual heating power.
3. PLC control, more stable and reliable
4. Special baffle valves for vacuum drying, better vacuuming performance
Main Technical Data of Vacuum Drying Furnace
Item
Data
Vacuum drying autoclave
1)
Effective inner dimension
5000 x 3000 x 3500mm (L x W x H)
2)
Ultimate vacuity
< 50Pa (idle, cold)
3)
Leakage of autoclave
< 300Pa·L/S
4)
Max. heating temperature
130℃
5)
Temperature evenness inside
±2℃
6)
Max. loading capacity
50T
7)
Temperature sensor
3 units
Vacuum system
1)
Ultimate vacuity
< 10Pa (idle, cold)
2)
Max. extracting speed
900L/S
3)
SV-300 rotary vacuum pump
1 unit
4)
ZJ900 Roots pump
1 unit
Heating power
96kW
Heating media
Heat induction oil
Control system
1)
Temperature displaying meter
3 units
2)
Temperature control meter
1 unit
3)
Vacuum transmitter
1 unit
4)
PLC + HMI
Siemens
Please contact with us for more details about vacuum drying furnace.