CTC Production Line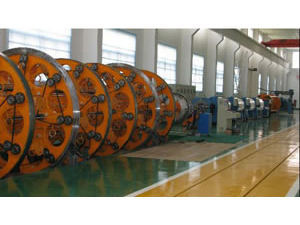 Our CTC production line is able to produce the continuous transposed conductors used in huge transformer windings with voltage of less than 1000MVA and 1000KV. This device is capable of stranding many flat copper wires together. It, through accurate mechanical actions of transposing head, can curve flat copper wires along the narrow cross-section, and transpose each other repeatedly, and then tape wires with insulation paper and wind them onto the take-up reel.
Characteristics and Features
1. 24-96 pay-off wires, super long pay-off distance, less than 16° pay-off angle
2. The CTC production line offers 8-10° compulsive leveling device with tension fine tuning
3.Constant-pressure double-pushing transposing action, transposing distance: 22-35mm; gapless adjustment, transposing frequency: max. 120 times per minute
4. Complementary tension type paper taping device
The lapping ratio of this device can be preset between 40-70%.
5. Our equipment is applied with double-station caterpillar type towing device and the towing force can be displayed and adjusted.
6. AC servo plus inverter drive, PLC control system, high precision synchronized controlling transmission of each part, recording and self-rectifying, long-distance diagnosing.
Technical Specifications
| | | |
| --- | --- | --- |
| Item | Data | Unit |
| Quantity of flat wires | 7-95 | pcs |
| Single wire size | A: 1.12-2.85; B: 3.15 - 13 | mm |
| Max. dimension of finished product | 28x90 | mm |
| Rotational speed of stranding cage (stepless) | 1-10 | rpm |
| Towing speed (stepless) | 1-10 | m/min |
| Transposing pitch (stepless) | 50-250 | mm |
| Taping speed (stepless) | 50-450 | rpm |
| Taping pitch (stepless) | 50-100 | mm |
| Max. taping layers | 8 x n | layers |
| Width of insulation paper | 14-35 | mm |
| Transposing direction | Right | |
| Main motor power | 18-55 | kW |
| Wire spool size in cage | PN400-PN500 | |
| Take-up disk size | PN800-PN2000 | |
| Take-up motor power | 7.5 | kW |
| Dimension of the line | (38000-58000) x 5200 x 4200 | mm |
| Weight | 38-61 | Ton |
| Total power | 60-113 | kW |